AirPort Flow
is a small utility to monitor the transfer rates on an AirPort Extreme.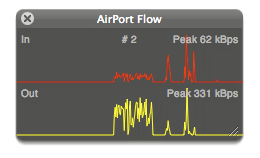 The rates are polled from the AirPort Extreme by SNMP. The top graph shows the incoming TCP traffic to the router and the lower one shows the outgoing TCP traffic from the router on a given interface.
In the preferences one can set the IP Address of the router, an IF (interface) index value (2 is specific for the AirPort Extreme) and a so-called community password (public is default).
[No SNMP response] is given when no response is received from the router. The router should have SNMP enabled. The IF index is added to monitor other interfaces on the router, 2 is the wireless part and 6 the WLAN port. If you have a TimeCapsule use 5 as IF index to monitor the wireless interface.
The number of Wireless clients is shown under the window title as # 4 if there are 4 clients connected to the AirPort Extreme.